Clever Plumbing Solutions
Need to get some plumbing done?
Are you looking for a local reliable plumber in Rodney, e.g. Warkworth, Matakana, Omaha, Point Wells, Leigh, Snells Beach Algies Bay or Kaipara Flats? We at Aqua Works have many years of experience in water purification, UV filtration systems, water pumps and hot water cylinders, which enables us to always seek and find the optimal solution for our customers, even in the case of demanding challenges – without breaking your budget. 
Our plumbers, electricians and service technicians have craftsmanship in our blood and are very passionate about what we do every day. We look forward to hearing from you and how we can support you. Call us on 0800 AQUA WORKS.
Rural rainwater harvesting system
Aqua Works offers a wide range of high-quality accessories for harvesting and protecting rainwater, from the roof to the tank through the pump and through your whole house. Our water treatment products help you improve the quality of your harvested rainwater through whole house water purification, UV filtration systems and under bench water filters.
Planning and installing a well set up and correctly functioning rain harvesting system is relatively inexpensive and the benefits are long-lasting. To find the right rainwater tank and rain harvesting system that suits your individual needs and water supply (even if you are on mains, rain harvesting could be a clever alternative) but also meet the legal requirements, it's best to talk to one of our experts on 0800 AQUA UV.
The right choice for your rain harvesting system
If you choose a rainwater harvesting system, whether you live rural or you are on mains, you need the expert advice of a certified plumber. Which is the best tank material? Which water pump fits the local conditions? How to get rain water potable? Our in-house trained service team guide you through all your questions and  help you to make the best choice.
At Aqua Works we have specialised in making your water safe and potable for over 20 years. Trust our years of experience and knowledge when it comes to designing, installing, and maintaining your rain harvesting system. Our certified plumbers and electricians are always there for you, even in an emergency at the weekend or late at night, you can count on us. Call 0212 787 427 for a local reliable plumber Rodney.
Easy fix with your local reliable plumber Rodney 
Our qualified service team will come onsite to solve your plumbing issues quickly and dependably.
Dripping water tap 
Even though for most New Zealanders water is available free of charge, a dripping tap over an extended period of time is a waste of water as an essential resource. Although it can be quite annoying, there is no reason to worry that the dripping tap affects your hot water cylinder's boiler pressure. 
The causes of a faulty water tap are numerous. If your twin-lever tap starts dripping, the seals on the mixer nozzle or handle are usually the main problem. Hard water attacks the sealing material, which then becomes porous and permeable to water. Thus, the tap water flows unhindered past the seal and the tap drips. Defective seals are less familiar with single-lever mixers, as they are made of sturdy and durable ceramic. Here, limescale or dirt are the main reasons.
Stopping a leaking faucet 
Is the dripping noise getting on your nerves? These tricks might help: A thread tied around the tap allows water to flow down silently. In addition, it helps to close the main valves when not in use so that the faucet no longer drips. Neither of these methods is a permanent solution.
Good news: a dripping water tap can be repaired easily by a professional plumber. But also, an experienced do-it-yourselfer can usually repair a dripping faucet himself. Whether you don't know the reason for your leaking water tap or you are not sure how to fix a dripping tap, it is better to give us a call on 0212 787 427. Our trained service technicians will help you quickly and easily.
.
Smart plumbing
The smart plumbing products from Aqua Works are power-efficient and cost-effective answers to your personal expectation for 21st-century plumbing solutions.
The convenience of hot water
In our lives, hot water is one of the most important goods in our households, whether for a shower in the morning or a relaxing bath at the weekend: For most people, well-tempered and well-pressurised water available throughout the house is more than just a basic need; it is a feature of high quality of life and wealth.
Hot water cylinders can last a very long time if properly maintained and serviced. However, there comes a time when your existing unit starts to give you problems, and you suddenly find yourself without hot water and therefore without a hot shower or bath. Call our 24/7 emergency break down service immediately on 0800 AQUA WORKSand talk to a local reliable plumber in Rodney.
Hot water cylinder problems
What if you are running out of hot water or the water pressure is too low? Is the water temperature fluctuating? Do you have a high power bill? When your existing hot water cylinder starts to cause problems,  this could be for several reasons.
At Aqua Works our passionate and highly skilled team of certified plumbers, electricians and service technicians are repairing, servicing and maintaining your hot water cylinders. Our experts have a wealth of knowledge and experience when it comes to replacing or upgrading your old unit, and are always happy to help you find the best hot water solution tailored to your requirements. Call us today on 0800 278 288.
Emergency service for hot water cylinder
Do you have an emergency with your overflowing hot water cylinder? Our certified plumbers provide you with high-quality products and services 24/7 so that you can lean back and relax again.
Plumbing repairs
At Aqua Works in Warkworth, we are available for repairs around your dripping water taps in the kitchen or leaking bathroom faucets. Whether you run out of hot water or suffer from low water pressure, or your hot water cylinder is leaking or overflowing, our certified plumbers and electricians will give you honest advice on the repair and costs before thinking of getting a replacement.
We offer smart solutions for water spotting, especially for your bathroom and shower. With our whole house UV water filtration systems, you have crystal clear views all the time and at the same time enjoy pure, healthy water.
Our skilled and experienced service technicians will also assist you with any issues around your rain harvesting system. We will fix the pipes or repair your water pump. Call our 24/7 emergency breakdown service any time on 0212 787 427. We service the entire Rodney district, from Mangawhai down to Albany and Auckland.  For high quality water pump repair in Rodney, you can count on us. 
Plumbing service and maintenance
Regular maintenance saves money! Only regular maintenance and servicing of your household appliances such as your hot water cylinder or water pump by a specialist business will guarantee that your water system always runs smoothly, cost-efficient and saves energy.
Suppose you do not have your water system professionally serviced. In that case, CO² emissions and energy consumption can increase due to particle deposits, for example, and gases that are hazardous to health can escape. You may even lose your guarantee and warranty claims.
Both private customers and commercial clients turn to us for our maintenance and commission us regularly. Our annual reminder will help you to ensure that everything is running safely and to your overall satisfaction in your premises. Would you like to conclude a maintenance contract with Aqua Works? Get in touch with us at 0800 AQUA UV. We will partner with you to add value for safe and healthy water in your entire home.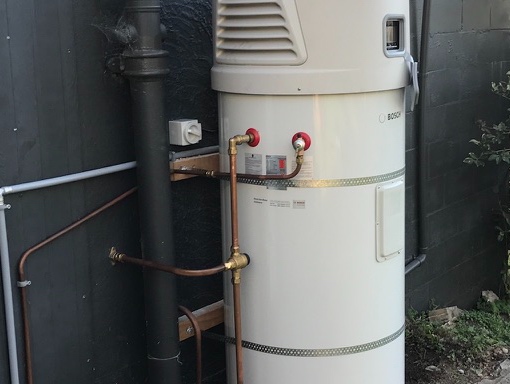 Plumbing new installations
If you are looking for a hot water cylinder or a new water pump for your rain harvesting system, there are many options to choose from. Aqua works always offers you the latest technology. We are happy to help you find the perfect design for your needs.
Our suppliers include Rheem, Bosch, Stanley, Cooper and Eco spring for hot water cylinders. These renowned manufacturers are known for the high quality of their products. In addition, with a modern hot water system, you protect the environment.
The DAB Esybox Mini pumps are currently the most reliable and cost-effective water pumps in New Zealand. But Davey, Grundfos, Pedrollo, Bianco or CEG, among many other suppliers, are also known for producing reliable and forward-looking pumps.  We have a wealth of experience in the installation of all products from these and many other manufacturers. Aqua Works' team assures you of high-quality service – from planning and design to commissioning and maintenance. Call us on 0800 AQUA UV and talk to a local reliable plumber in Rodney.
Why choose an expert for your PLUMBING ISSUES?
At Aqua Works, we have an experienced team of in-house highly skilled plumbers and electricians who are looking forward to sharing their many years of experience and vast knowledge of residential and commercial plumbing with you. As a family-owned business, we are experts when it comes to repair, service, maintain, upgrade and install hot water cylinders throughout the Rodney District, South Kaipara and the Albany area. 
Benefit from our many years of great experience and knowledge as hot water cylinder, water pumps and UV filtration system experts. Call 0800 AQUA WORKS for a local reliable plumber in Rodney.
Water installations, especially those of hot water cylinders but also UV filters, should always be carried out by an experienced professional. Otherwise, even a small mistake can lead to major damage. Call our specialists to detect the fault early, limit the damage, avoid high operating and repair costs and increase the safety in your home.
Benefit from our
Professional & Aqua trained technicians & service team

Certified and registered plumbers and electricians

Emergency hot water cylinders repair & service 

Energy-efficient and solar hot water experts

After-sales service & answering of technical questions 

On the job invoicing, transparent and clear, mobile Eftpos 
Aqua Works strives to be a reliable and long-term partner for our customers, on whom they can fully rely. We combine traditional craftsmanship with modern techniques, equipment and efficient processes. It is essential to us to realise our customers' wishes based on their requirements. When you need water pump repair in Rodney,  get a free quote at 0800 AQUA UV! Our team will be happy to discuss your requirements in advance without obligation.
Hot water cylinder overflowing? Need a plumber in Warkworth?
Do you have an emergency with your overflowing hot water cylinder? Our certified plumbers provide you with high-quality products and services 24/7 so that you can lean back and relax again.
Professional Aqua trained customer service team
Telephone service for after hours & weekends
Our plumbers are on stand-by for your emergency call outs
Secured data systems for annual reminders and fast response
Premium quality - our customers' satisfaction is important to us.
It is not only about the products, it is about workmanship.
We offer you the best water pumps from the most experienced manufacturers.
Certified plumbers & electricians to do the job at once to save your time and money.
We are natural problem solvers and love a good challenge.
Get a free quote when considering upgrading your cylinder.